PER MIL-G-45201, ASTM B488
24K Gold on a Banjo Frame
Select-Tron Plating offers gold plating services in both 99.7% pure "hard" gold and 99.9% soft gold electrodeposits. Select-tron Plating plates to MIL-G-45204, ASTM-B488 pr customer specified specifications. Over 40 years experience of plating gold onto connectors, fasteners, contacts, electrical components, decorative items such as guitar pieces, banjos, home items to name a few. Select-tron Plating has supplied gold plating services to such industries as telecommunications, RF& Microwave Components, aerospace, military and the electronics industry as well as personal items such as jewelry. Select-tron Plating has lines that vary in size providing services for rack and barrel for both large and small sized orders including prototype orders.
Select-tron Plating offers a complete range of gold plating services including Type I, Type II, Type III purity plating in soft and hard gold deposits. Several underplate deposits are available at Select-tron to choose from. Sulfamate nickel, copper, electroless nickel, bright electroless nickel, and silver are all commonly used deposits to apply directly over the base metal to help improve solderability, prevent migration, and improve wire-bonding.
What are the benefits of "hard" gold plating and soft gold plating?
Gold plating is an exceptional choice for numerous engineering requirements where electrical conductivity, solderability and corrosion resistance are required. When applied properly gold does not oxidize or chemically react under normal conditions. Hard gold plating services are commonly used in applications where there is repeated movement between two connectors.
Soft gold deposits are desired when a component is required to pass soldering, bonding, high temperature and high corrosion resistance applications. Soft gold plating is preferred for high temperature applications due to the fact that alloying elements of hard gold plating can oxidize at elevated temperatures.
The basis metal condition and color will affect the end result of the gold color or any final plate finish. This is particularly noticeable when a single item has both bright and textured areas. Plated in the same bath, they will appear to be two different colors. A heavy underplate is beneficial to aiding in the cosmetic appearance of the gold. Some customers prefer a heavy bright electroless nickel to help improve the cosmetic appearance of the final gold plated product.
Select-Tron Plating Quality Control Program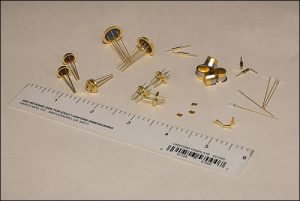 Select-Tron Plating Quality Control Program X-Ray Fluorescence for thickness certifications. High temperature Testing for integrity of deposit and purity of gold. Solderability Test per MIL-STD-202, Method 208, J-STD-002. Thickness readings and certification sent with each order if requested by the customer. In-house laboratory for control of processes. Select-Tron Plating monitors their plating baths through in- house analysis procedures to ensure baths are maintained for optimum control of all parameters.
Product traceability from receipt of order throughout the plating process through delivery.
The following outlines some reasons that Select-tron has remained a preferred supplier of gold plating services.
RoHS compliant
Environmentally Compliant
PPAP Qualifications
Competitive Pricing
Lean Lead Times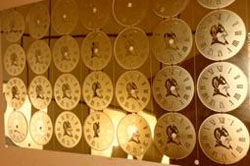 Gold (High Purity) MIL-G-45204
Type I: 99.7% gold minimum
Type II: 99.0% gold minimum
Type III: 99.9% gold minimum
Grade A: Knoop hardness 90Max
Grade B: Knoop hardness 91-129
Grade C: Knoop hardness 130-200
Grade D: Knoop hardness 201 and over
Purity (Type) and hardness (Grade) relationship
| | |
| --- | --- |
| | |
| Type I | A, B and C |
| Type II | B, C and D |
| Type III | A only |
Class 00: 0.00002 inch thick, minimum
Class 0: 0.00003 inch thick, minimum
Class 1: 0.00005 inch thick, minimum
Class 2: 0.00010 inch thick, minimum
Class 3: 0.00020 inch thick, minimum
Class 4: 0.00030 inch thick, minimum
Class 5: 0.00050 inch thick, minimum
Class 6: 0.00150 inch thick, minimum
Gold Plating services to ASTM B488-01
Type IL 99.1% pure gold
Type II: 99.0% pure gold
Type III: 99.9% pure gold
Code A: 90 HK25 Maximum
Code B: 91-129HK 25
Code C: 130-200 HK25
Code D: >200 HK25
| | |
| --- | --- |
| | |
| Type I | A, B and C |
| Type II | B, C and D |
| Type III | A only |