SELECT-TRON PLATING QUALITY CONTROL PROGRAM
ISO- 9001-2015 Compliant
X-Ray Fluorescence for thickness certifications. High Temperature Testing for integrity of deposit and purity of gold. Solderability Test per MIL-STD-202 Method 208 J-Std-002. In-house laboratory for control of processes. Product traceability from receipt of order, throughout the plating process, through delivery.
Gold Plating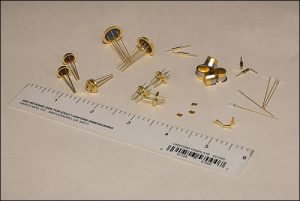 Gold plating has an excellent wear resistant property. It doesn't oxidize allowing gold to remain as one of the highly consistent plating surfaces for electrical components and contacts. Gold can be plated in softer (> 90 knoops) to a harder gold plate (> 120 knoops) by additions of hardening agents. Gold is highly recommended for parts requiring a solderable or wire-bondable surface. Plated per MIL-G-45204 and ASTM-B-488. (More Info)
| | | |
| --- | --- | --- |
| | | |
| Gold (High Purity) | MIL-G-45204 – Type I, II, III | Wire Bonding – Solderability |
| Gold (Hard) | MIL-G-45204 – Grades A thru D | Contacts – Wear Solderability |
---
Silver Plating
Silver plating is considered to be one of the most highly conductive plated surfaces. Silver plating will tend to oxidize much easier than gold plating. Although there are several anti-tarnish coatings that don't affect the solderablilty and at the same time assist with an application. Silver plating is very useful in regard to equipment in radio frequency. Silver plating offers great conductivity and low resistance. Plated per QQ-S-365 and AMS-2410
Silver (Bright)
AMS 2411/AMS 2410
QQ-S-365 – Type III

Conductivity – Low Resistance

Silver (Matte)

QQ-S-365 – Type I

Where outgassing is detrimental to the device
---
Solder Plating
A leaded tin or solder plated surface prolongs shelf-life over pure tin plating. Solder plating yields good corrosion resistance and has low porosity. The tin/lead baths used here at STI are 60/40 tin/lead and 95/5 tin/lead. Plated per ASM-P-81728.
| | | |
| --- | --- | --- |
| | | |
| Solder | MIL-P-81728 | Electronic components |
---
Tin Plating

Tin plating is very useful as an anti-galling or low-resistant surface which protects against corrosion. Tin plating is a very solderable surface. Tin plating is good in many service conditions depending on the thickness of the deposit and the applicable environment. Plated per MIL-T-10727 and ASTM-B-545
Tin

MIL-T-10727 – Type I

Leads – eyelets – hardware- connectors

MIL-M-38510
ASTM-B-545

Components – pistons that require low organic tin coating, minimum outgassing and excellent solderability
---
Electroless Nickel Plating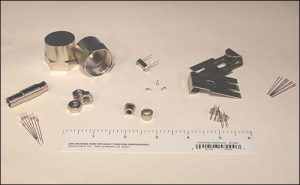 Electroless nickel plating is a highly corrosion resistant surface, more resistant as the percentage of phosphorus rises. We plate from a low-phosphrus electroless nickel bath (2-6%) to a high-phosphorus electroless nickel bath (9-14%). Currently all our electroless nickel baths are RoHS Certifiable and will pass solderability testing per J-STD-002 or MIL-STD-202, Method 208. Electroless nickel is also very consistant in regard to coverage overall. It covers surfaces evenly while in the plating bath. With no current necessary it keeps the edges of the parts from building up heavier as with electrolytic nickel baths. The brighter the finish, the more brittle the deposit. Plated per MIL-DTL-32119, MIL-C-26074 and AMS-2404/5.
Electroless Nickel
MIL-C-26074
ASTM-B-733/AMS 2404

Electronic components, shafts, gears, etc.
---
Electrolytic Nickel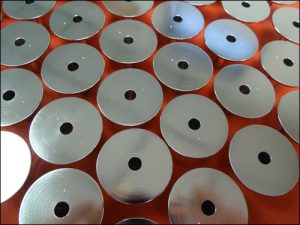 Sulfamate, Watts or Electrolytic nickel is a good corrosive, ductile nickel. It is RoHS certifiable. The sulfamate nickel layer loses its ductility the brighter the finish due to organics being introduced to the bath. A dull nickel will be the most ductile. It is very useful as a an underplate. Electrlytic nickel is a good solderable surface. Plated per QQ-N-290 and MIL-P-27418
| | | |
| --- | --- | --- |
| | | |
| Electrolytic Nickel | QQN-290/MIL-P-27418 | High temp/corrosive environment |
---
Copper Plating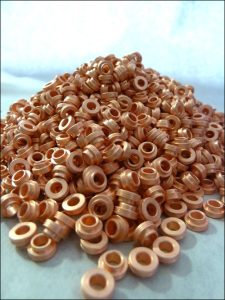 Copper plating is used as an undercoating for metals, promoting adhesive properties as well as excellent corrosion protection to other subsequently plated metals. Copper plating is also useful in providing a good solderable surface. Plated per MIL-C-14550, ASTM-B734 and is RoHS Certifiable.
| | | |
| --- | --- | --- |
| | | |
| Copper Plating | MIL-C-14550 | Barrier coating over base metals |
---
Plating on Aluminum
We have experience plating nickel, copper and tin (overall and selective) on many aluminum substrates. Plated per MIL-C-26074, MIL-C-14550 and MIL-T-10727.
Plating On Aluminum

MIL-C-26074 MIL-C-14550 MIL-C-38510

Shafts, honeycombs, valves, boxes, hardware, connectors

Plating on Stainless Steel

Zinc Plating
Selective plating techniques have been developed at Select-Tron Industries over the years, even for those seemingly "impossible" applications.